SP1

Zive Potentiostat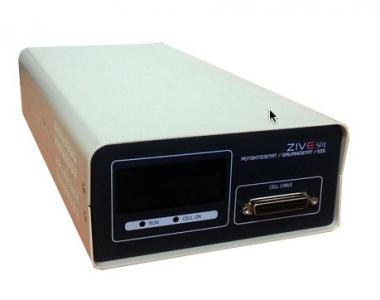 Solar Cells
Supercapacitors
Fuel Cells
Batteries
Sensors
General Electrochemistry
This is an economic high quality potentiostat/galvanostat/impedance analyzer especially designed for electrochemical experiments with batteries, fuel cells, corrosion, sensor and solar cells. It is supplied with various software packages for different types of experiment, and connects via USB to a Windows XP, Vista, 7 or 8 computer.
The ZIVE SP1 electrochemical workstation is ideal for both fundamental research, and product development, and quality assurance programs for:
new sensors
corrosion/coatings
electrode materials
membranes
conducting polymers
battery materials
fuel cells
supercapacitors
photovoltaic materials and solar cells
The ZIVE SP1 can be used as a:
potentiostat, for voltammetric and chronoamperometric experiments
galvanostat
ZRA (zero resistance ammeter)
FRA (frequency response analyzer) for EIS (electrochemical impedance spectometry)
This powerful model is a perfect choice for the DC and impedance characterization of materials.
Potential range: ±10V
Current ranges: 100 nA, 1, 10, 100 µA, 1, 10, 100 mA, 1 A
Current resolution: 16 bits:
Frequency Responce Analyser for EIS: 10 µHz to 1 MHz
12 EIS techniques (including Multi-Sine)
Capable of Bipolar Pulse technique
Voltage pulse or current pulse charge/discharge test (GSM,CDMA etc.)
Ripple simulation available in Battery test package.
Pulse plating available
Internal 350,000 data point storage
Dimendions: 160 x 324 x 76 mm / 2 kg
Includes software packages for:
- corrosion testing
- EIS
- electrochemical analysis
- battery testing
Warranty: 12 months
More Information

SP1_Zive _Potentiostat (3.8 MB PDF)